"Everything you need to create, optimise, and scale up your Facebook advertising - with full video walkthroughs and personal help from me."
— Nick Stephenson (that's me!)
MAKE FACEBOOK ADS WORK FOR YOU
I understand there's no "one size fits all" strategy to suit every author and every business – we're all different. We have different experience, skills, goals, and circumstances – which is why over the course of this detailed article series, I've shown you a process you can use to discover what works for YOU.
And if you'd like more detailed instructions – a "do this, then do that" walkthrough – and you'd like to get personal help from me, then I'd love to partner with you in my FB Growth Machine program.
I've been successfully using Facebook ads for years – and have spent well over $100,000 (of my own money) to figure out what works. I regularly see over 100% ROI on my best ads – as I've shown you in the article series – and I've developed a process to focus my efforts on strategies that have been proven to work.
And I want to help you do the same.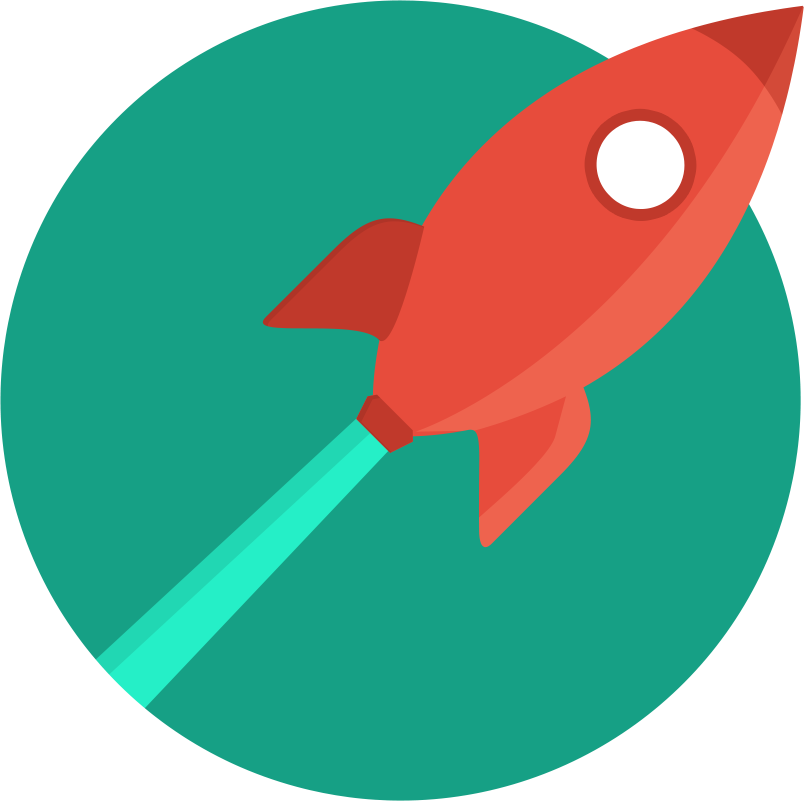 In the FB Growth Machine program, I'll show you – start to finish – how to optimise your business to support effective ads, and how to build effective campaigns, monitor their performance, and scale them up – profitably.
In short, I'll give you an end-to-end "blueprint" to follow to make sure your Facebook advertising is bringing you great longterm results, 24/7.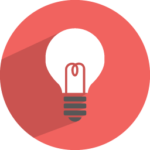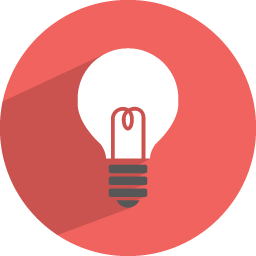 Who's this training for?
If you're an author – in any genre – and you want to develop a system for driving high-quality traffic, converting that traffic into fans and sales, and then scaling up your results, this program is designed just for you – whatever your experience level.
If you're a beginner
Don't worry, I've got you covered. I'll walk you through the basics, and make sure you're set up the right way BEFORE you start investing in ads. I'll show you how to start off small, and how to grow your budget slowly over time, making sure you stay profitable.
If you've been doing this a while
I'll show you a new approach to testing multiple audiences and scaling up – using Facebook's advanced data reporting and audience targeting, I'll help open up a whole new world of potential readers for you and your books.
I released this training material early to a few VIP students – and here's what they said: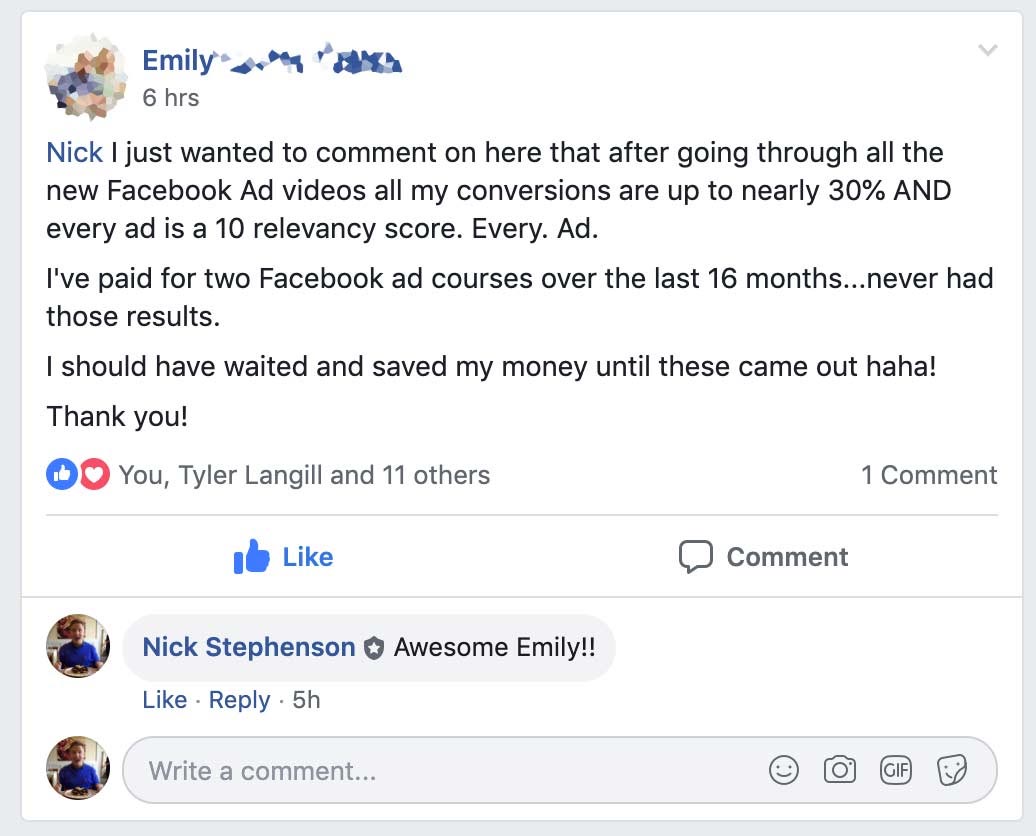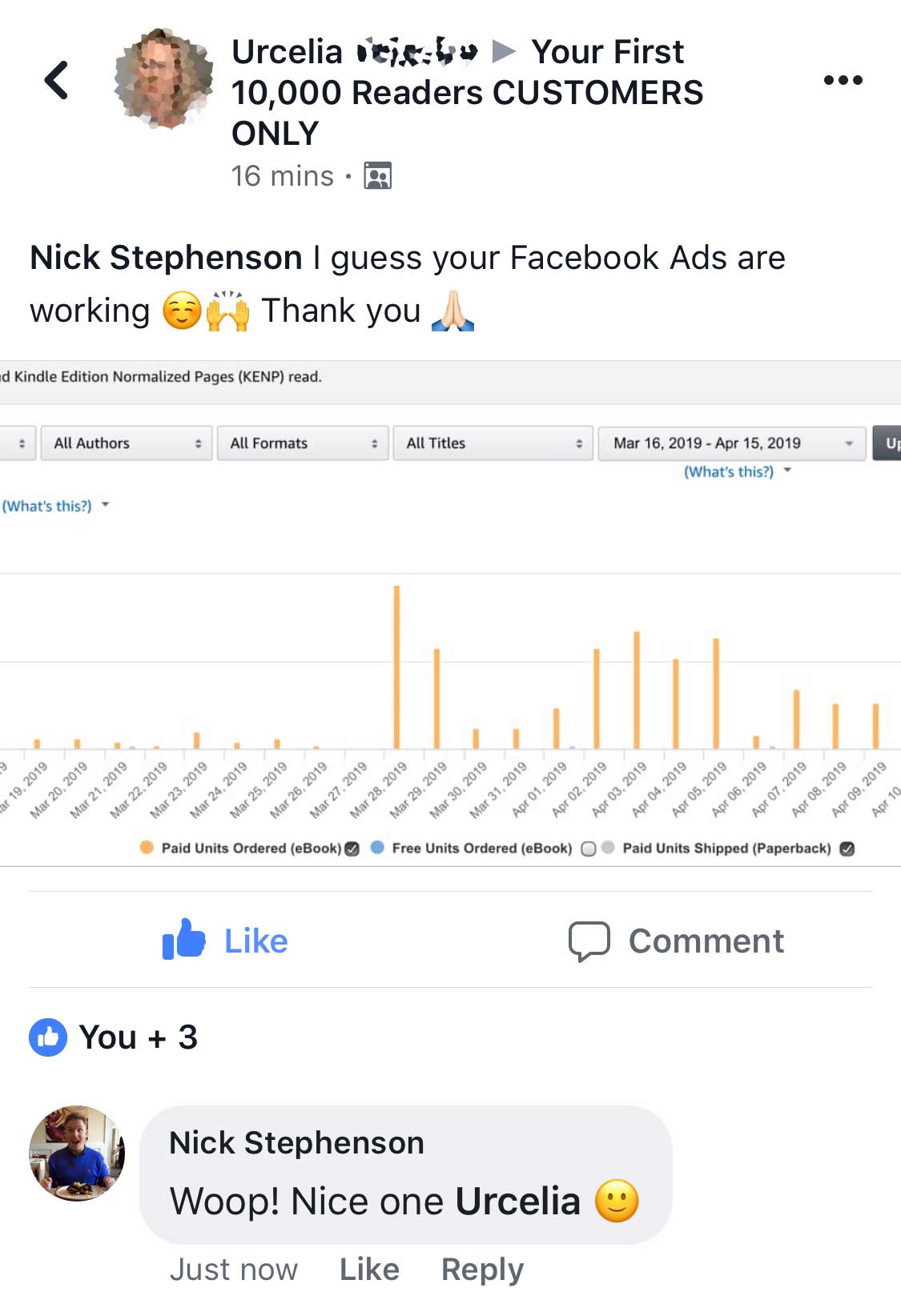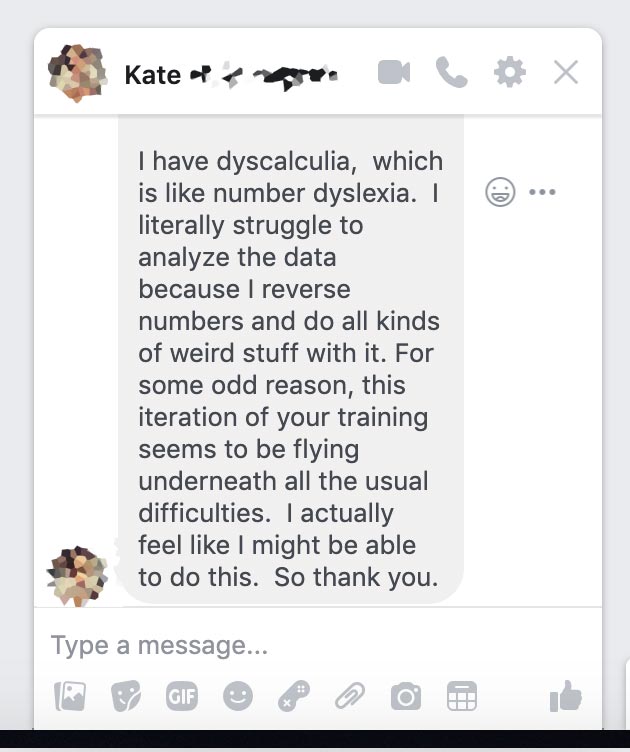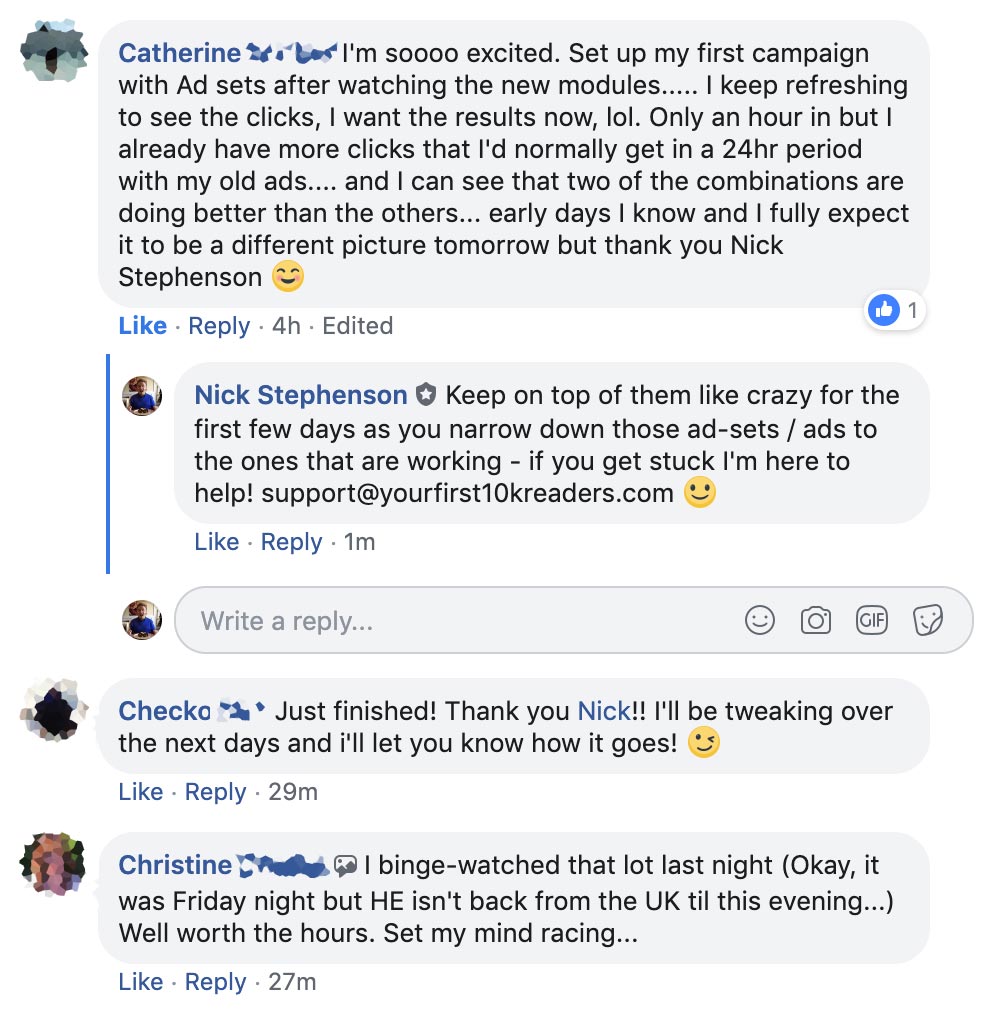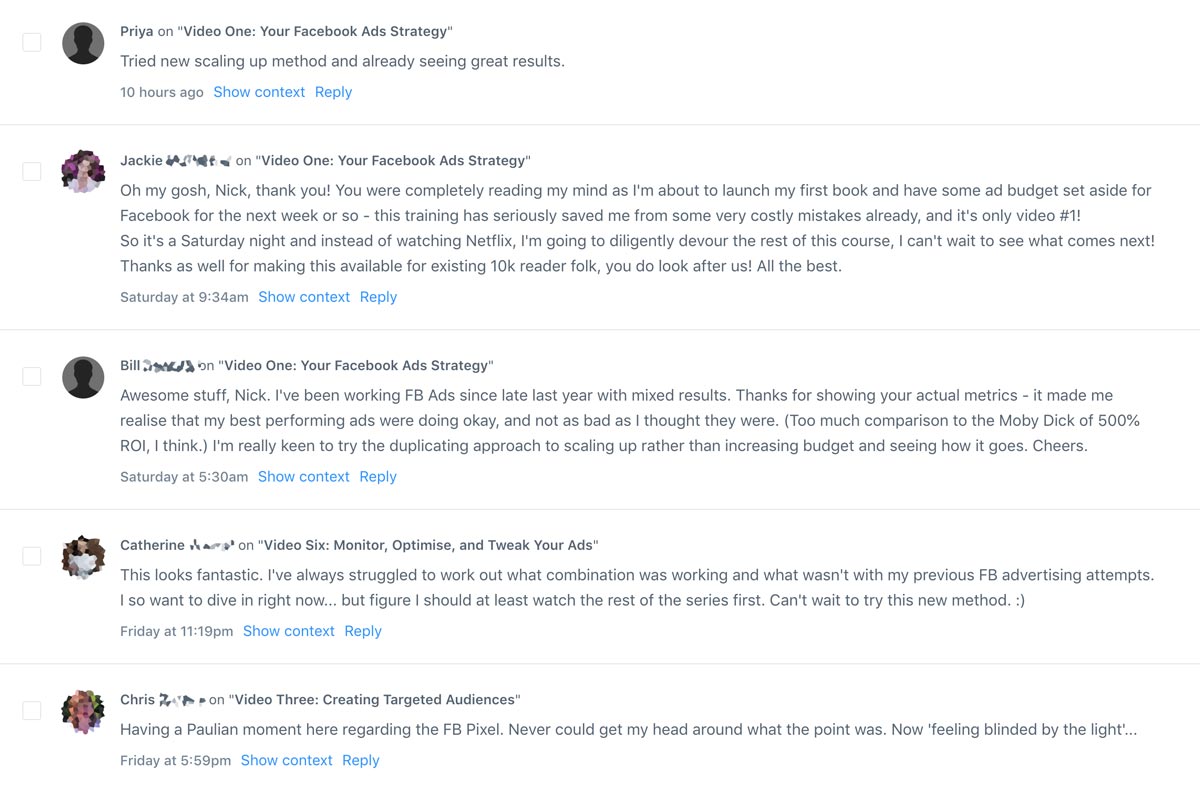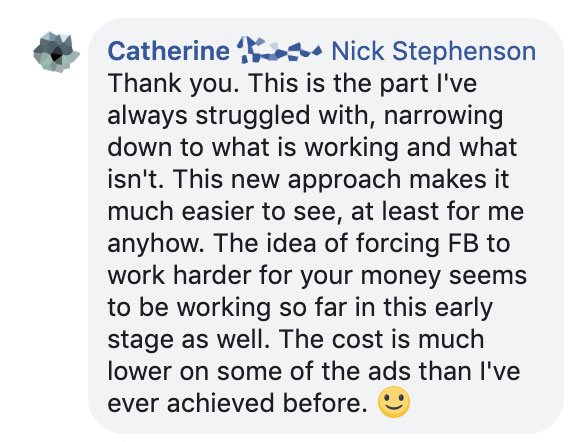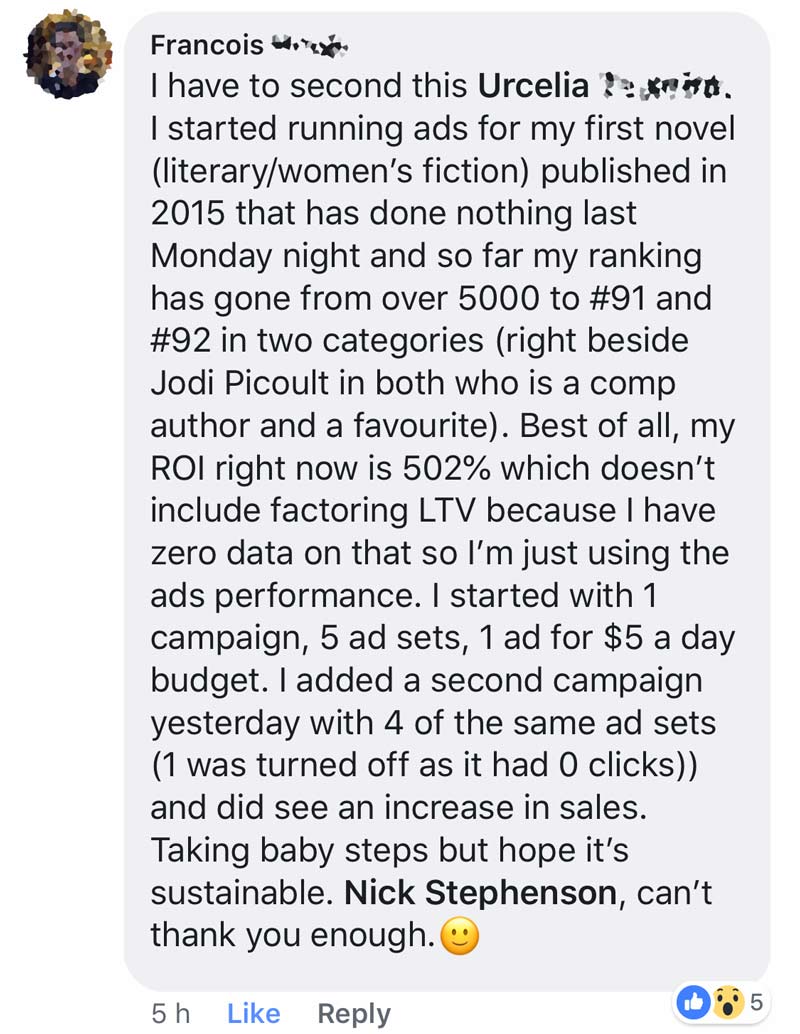 The above comments were taken from some existing students getting early access to the program – they followed the training, put it into action, and started to see results pretty quickly. Of course, I can't guarantee you'll see instant results – nobody can – but I can promise to give you all the tools you need to maximise your ad campaigns and give you personal help to make it work for YOU. So, without further ado –
Here's what's waiting for you inside the FB Growth Machine program…