HOW IT
WORKS
The program is split into three core "Phases" – Learn, Execute, and Refine. With all three phases complete, your email-marketing system will be up and running and bringing you more sales, reviews, exposure – or any other objective you set – 24/7.
And you'll have personal access to me – along with my guidance and support – every step of the way. That means, if you have a question – any question – you can always get the right advice, tailored just to you.
Not sure how to make all this work with your genre? No problem. I'll work with you on it.
Don't understand how to "build" everything out? I'll help you make it happen.
Want me to look over your emails, launch plan, or funnel set-up? You got it.
Need to build a "funnel map" that suits your business? No problem – use one of the templates I've built for you, or I'll help you design your own from scratch

Remember, my goal is to get you to EXECUTE. And I'm there for you to make sure that happens, whenever you need.
I've designed the program to last 90 days – by which time, working together, we'll have your first funnels up and running. Need longer? No problem. You'll still have access to the material and the coaching, so you can go at your own speed.
Here's how the core Phases are broken down:
PHASE ONE:
LEARN
1
AVAILABLE NOW
Pillar One:

Create Amazing Content
Module 1 – Barriers to email

Module 2 – Setting your objective and tone

Module 3 – The AIDA and HTOC frameworks

Module 4 – Your "big idea" through to execution

2
AVAILABLE NOW
Pillar Two:

Drive the RIGHT Actions



Module 5 – Using EMU for a launch or promotion

Module 6 – Designing your Pre-launch

Module 7 – Launch day strategy

Module 8 – Post Launch and beyond
3
AVAILABLE AUGUST 1st
Pillar Three:

Automate and Scale
Module 9 – Your welcome & nurture series

Module 10 – The structure of your funnel

Module 11 – Growth levers, open rates, click rates and more

Module 12 – EMU in the wild, and how to start building
PHASE TWO:
EXECUTE
4
AVAILABLE AUGUST 15th
Your execution plan in action
Choosing the right tools and software
Timelines, goals, and measuring success
Personal help – and customised plans – from me at every step
PHASE THREE:
REFINE
5
AVAILABLE SEPTEMBER 3RD
Tweaking the system to suit YOUR business
Metrics that Matter – Growth Levers
Ongoing support and customised help from me for up to 1 year
YOUR
BONuSES
6
AVAILABLE NOW & FROM AUGUST 1 – 15th
Custom "Funnel Maps" and downloadable templates (plus access to the software that will help you design them)
Private Facebook Community – get help and support from other students going through the same material (opens August 1st)
Downloadable examples of emails you can use for your launches, promotions, welcome series, and more
Get your work reviewed – at the end of each "Pillar" or "Phase", you'll complete an assignment to check your progress, and will be able to upload your emails, launch plans, and funnel maps for me to review – personally.

You'll get full access to the video and text learning modules, and full access to me –
to help you make this work for YOU

– any time you need it.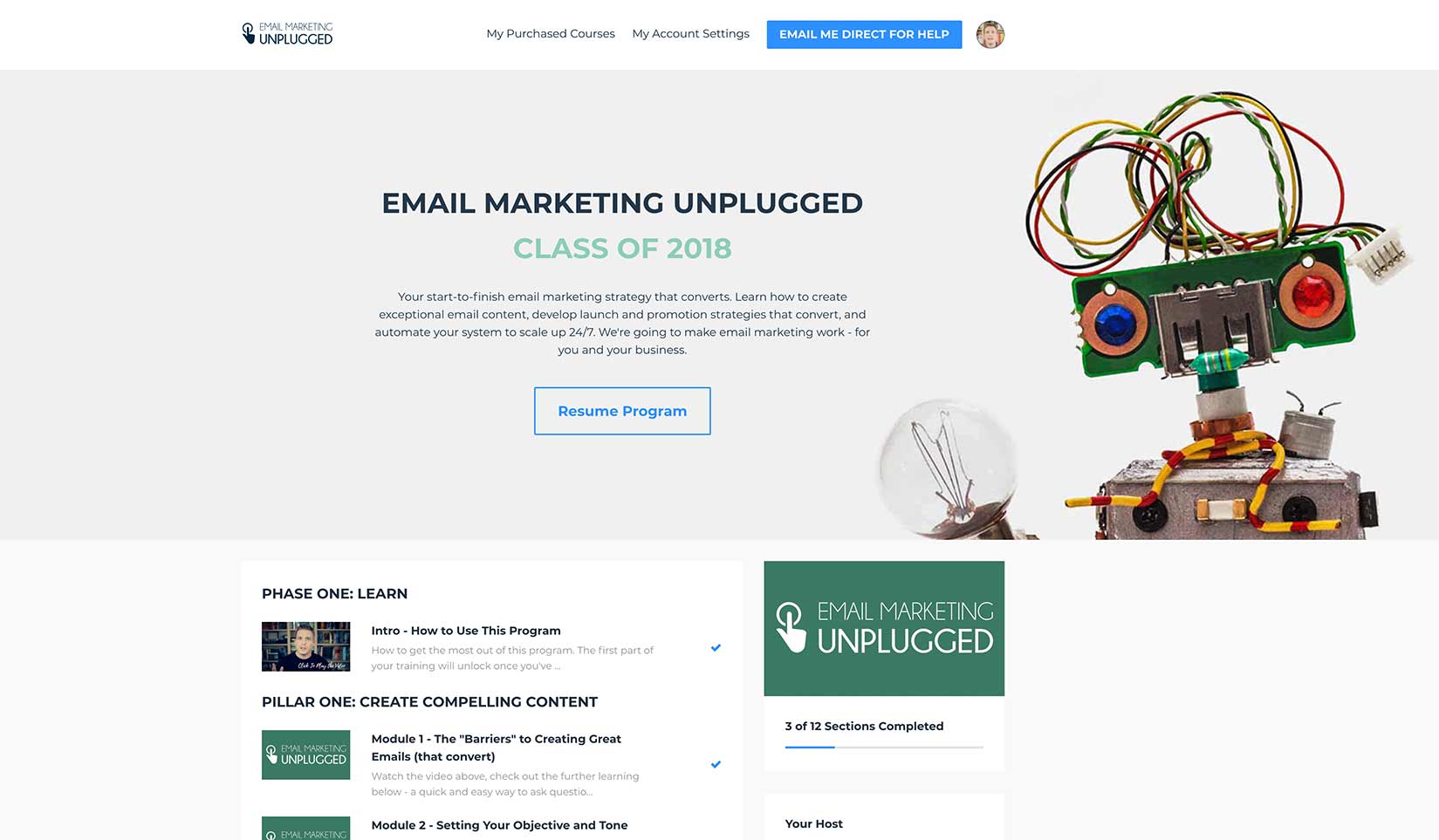 This is not a "Beta" course. It's not "Version 1" of a program that won't get updated for years and will go stale. Email Marketing Unplugged – Class of 2018 is an interactive learning experience.
The learning material, case studies, templates, and other resources will be continually updated with YOU in mind. The program will never be "finished" – and as a student you'll get free updates and upgrades for life (never pay extra) as the content evolves to meet your needs now and in the future.
This is not just a course – this is a commitment, from both you and me, to make this work for your business and your circumstances.
Because of the commitment involved, I'm restricting the number of people who can join this year.
So, if you're wondering if EMU will work for you, here are my suggestions as to "who this is for" and who should pass:
If You
Are:
An author, or creator of "online digital content"
With a growing email list (you don't need thousands – some of our students joining only have a couple dozen contacts – but you should be actively growing it)
And you can commit to this process and are willing to execute on the learning
And you will ask for help, submit your work, and complete the modules
Then I definitely want to hear from you.
If you
are:
A total beginner with no books or products out yet
Not actively growing an email list / have no framework in place to collect email addresses
Don't have the time to commit to the work this year
Not planning on releasing anything new or promoting anything you already have this year
Then this program isn't a good fit for you right now. And that's fine. Take what you've learned already and apply it at your own pace, to suit your needs.

HOW TO
GET STARTED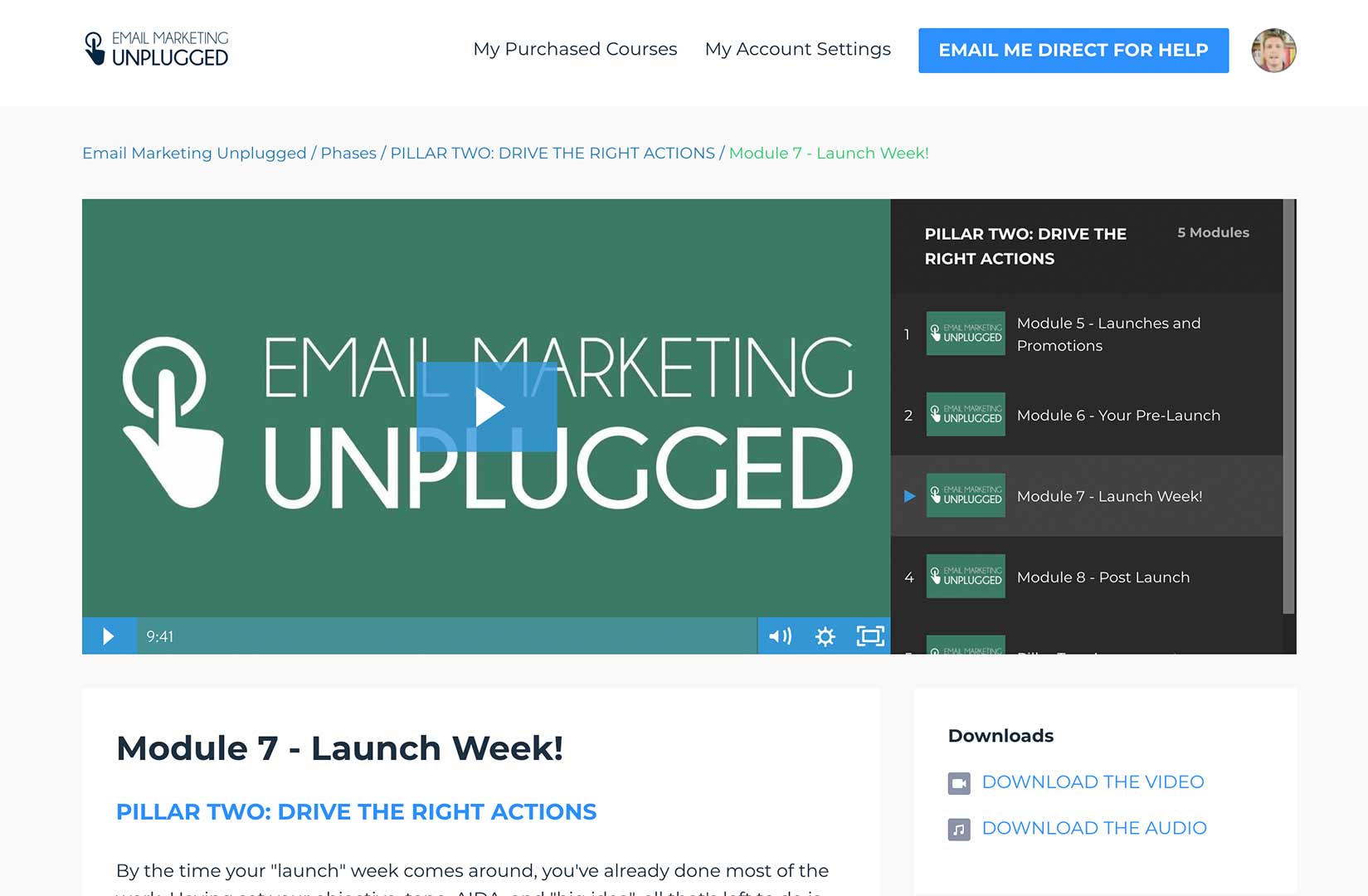 If you'd like to work with me to implement EMU in your business, here's what will happen when you enroll:
You'll get instant access to the module materials for Phase One, Pillar One – "Create Amazing Content". The other materials will unlock as you progress, complete the multiple-choice assignments and submit your work for review.
(Yes, I'll review your work personally).
Pillar Three (Automate and Scale) will open up on August 1st. Then, Phases Two and Three will unlock from August 15th for those who have completed Phase One. If you prefer to work at a slower pace, that's fine – the material will still be available for you when you're ready.
You'll also get instant access to me, and can ask questions via email or in the comments section of the course material – where
you'll also meet other students
The program is designed to be learned and implemented in 90 days – but when you enroll you will keep lifetime access to the materials and will be able to contact me direct for help and support for up to one year after purchase (so you can go at your own speed).

HOW TO
ENROLL
Email Marketing Unplugged – Class of 2018 is a 90 day program – with live support and coaching from me – that will get your email marketing systems up and running, tailored to your circumstances and your business.
Due to the intensive nature of the program, EMU 2018 will only be accepting a very limited number of students this year – so please be sure you can commit to getting stuck in before signing up.
I've put a lot of thought into how to price the EMU 2018 program to give you the maximum value and get you the best results. And where most "coaching" memberships can cost $3,000+ per year, or where "one-on-one" programs can cost several times more than that, this isn't the route I wanted to go down.
The cost of the Email Marketing Unplugged full training program – when it goes public later this year or in early 2019 –
will be $997
As the first intake of students – and on the understanding that you will help shape the development of the program with your feedback and the work you submit for review (this program will never be "finished" – it's a continuous reflection of what YOU want to learn and the changing landscape of online marketing) – there is a limited-time discount for July 2018 only. 
All new students get full access to the materials – which will be released between now and August 15th – and a full, no-questions-asked 30 day guarantee.
To partner with me on this, just choose a discounted payment option below and you'll
get instant access to the material and a direct line to my inbox