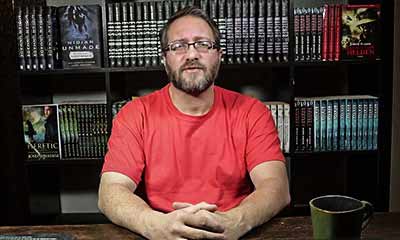 Joe Nassise here. I'm a New York Times and USA Today bestselling author, with over 1,000,000 books sold in print (and ebook). I'm here to show you the process I use to write up to 6 novels a year – a system we call Story Engines.
"I started watching one of Joe's videos while on holiday. Two months on, guess what? My book goes live tomorrow!"
— El Edwards, Fiction Author
WHAT ARE STORY ENGINES?
For so many authors, the idea of writing a 50,000+ word novel in 30 days is enough to get them worked up into a frenzy of stress. And while writing a full draft in 30 days might seem like tall order, it is actually very doable if you approach the process from the right perspective and have all your ducks in a row before hand.
To be certain that you do – have all your ducks in a row, that is – I'm going to walk you through the very process I would use if was intending to tackle a challenge like this.
THE STORY ENGINES process is simple and it involves seven specific steps.
Idea
Premise
Characters
Brainstorming and Ordering My Scenes
Verifying My Structure and Confirming My Final Scene List
Writing the First Draft
Editing, Rewrites, and Polishing the Final Draft
Each step moves you along the path and confirms the "rightness" of the step before it, so you don't get halfway through the project only to realize you've taken a wrong turn somewhere.
The process is designed to save you the time and effort needed for massive rewrites and to keep you moving briskly forward toward completion. You'll complete steps 1-5 before you even start on your first chapter. Steps 6-7 are what keep you moving briskly forward towards "The End".
"Tonight, I watched the first video with Joe Nassise on going from idea to plotted novel... 3 hours later I have a fully plotted novel!"
Now, bear in mind – each of these 7 steps will involve building your story around a specific story structure. That is, making sure your book consists of "the right scenes in the right order", to give your story the right pacing and impact (to keep readers hooked).
If you get that right, your story will flow quickly, you'll enjoy the process more, and there'll be less time spent on re-writes and editing. 
Put it all together, and you've got a blueprint to get your first draft written in as little as 30 days. That means the potential to write AND publish 6 novel-sized books a year, without burning out, getting bored, or spending all day wondering "what to write next".
No more writers' block. No more "muddy middle". The Story Engines process will revolutionize the way you write.
To learn the entire process, sign up for our detailed (and free) video training series right here:
"That's seven steps, each moving your novel project further in the direction of completion. By the time you are done, not only will you have a completed draft, but you'll know it holds together like a finely-tuned machine and will take your readers on an emotional journey that will keep them coming back for more."
— Joe Nassise, Co-Creator of Story Engines
© Your First 10,000 Readers
Terms | Privacy | Disclaimer